There are many opportunities to work as a graduate or as a student. One of these ones is Walmart companies. They would like to give chances to the people who would like to work with them. Thus they open the job proposal by means of online application by making some mini exams. If you wish to work with them, they present some exams on the internet. That is to say, online applications provide people with numerous chances to work in their company. These appliances can include both Spanish and English.
This article shows what steps you will come across during Online exams that Walmart organize.
Registration To Candidate Account
You can register candidate account by means of social security number.
Finish Walmart Job Application
Answer all the questions about citizenship, age, female or male. And then choose what the department is suitable for you. If you want to work in the branch of retail, you can choose it. After that, you can write communication information such as e mail address, phone number. Please note that when you are free during the week to work in this company. You can write two people's names as the reference. In addition, you can write your skills and abilities accompanied by knowledge of language.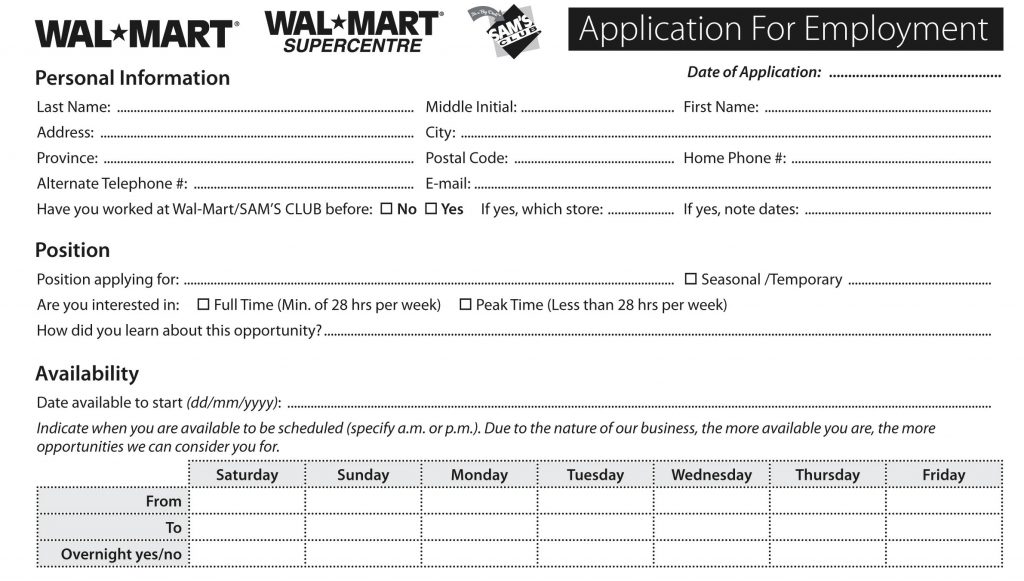 Employers' Questions To Candidates
The candidates will come across some questions about security whether he or she has a case because of theft or any other crimes. This part is to handle security in the company. Besides, the candidates will face some questions about the degree of education. Sometimes the salary can change on the base of level of education. Moreover, they would like to learn why you change your job. And they will also be curious about the last employers.
Test To Assess The Candidates
There have been four parts of this assessment
First part is about the reactions to the problems. That is to say, they want to learn how you sort the problems out by overcoming all the problems with customers. This part has multiple choice questions.
The second part is about asking whether some suggestions are beneficial or not for the company.
Third part is about assessing some options and suggestions according to degree of your agreement or disagreement.
Fourth part includes how the candidates' carefulness they have, and they will look for details in the last work.
When you see two people fighting in the company, how would you overcome it?This question shows how much you have patience and how you deal with some possible problems. Besides, if a customer wants to change the product , what would you do? This question wants to anticipate your patience and attitude towards them
All in all, you can work in Walmart Companies, too. However, you should pass all the questions and this online exam easily. Thus, you will be able to possess a position in Walmart Company. You can follow your dreams by working with the greatest wish. Now that is time to apply for the job in Walmart.