STAR Technique is a method which is used by lots of institutions about recruitment issue, STAR word includes techniques which is used for job interviews.
S: State
T: Task
A: Action
R: Result
STAR Technique is based on to specify business manner and duties which are reached to describe aim and studies which he or she made. This technique paves the way for analyzation of the application largely. Interview is between two people.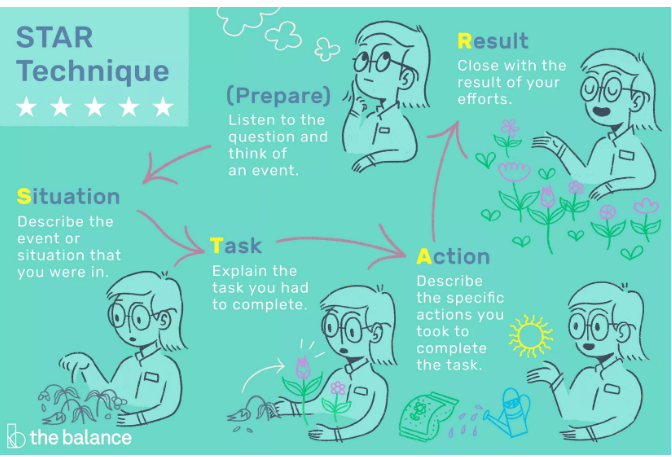 What Are Advantages of STAR Technique?
It provides to be placed the correct person to the correct work.
By analyzing the workers, it provides to be separated workers productively and high performance.
It leads the way that how you can keep in reserve labor force.
You can observe all showed acts in any event.
You can have chance to understand how confidential information which you take in, to use STAR Technique.
It is a good feedback material.
You can analyze your business performance with all of aspects.
Also you have an opportunity to take a feedback from others with the aim of improving your behaviors.
So, you can transfer available situations more clearly.
And, you can offer alternative behavior forms to develop skills of other people.
You can give feedback to the people who you are in contact.
Right Ascensions of STAR Technique
 How situation did the applicant come across? / Which duty does the applicant have? Why?
What happened the applicant's behaviors? / What happened? How was it become?
What happened in the end of behaviors? / Did any change become?
ST (Situation / Task) : It is an analysis of situation of a worker or an event in a specific time. It gives a response to the question of "Why did the person act so? "Which factors have affect to be acted by the person?". Situation and tasks obtain in the result of factors like increasing labor force, changes in process, different expectations from working place, limited time.
A (Action) : It provides for us to understand what the worker made in a bad situation and how he or she made it. It helps to be analyzed what the worker should make in such a bad situation and why he or she didn't make even if he or she had to make it. For example; increasing demand for health insurance suddenly. In such situation, you can not find new selling representatives and trained them, so you give this duty to all personals and you offer premium to them.
In the action step;
Which ways did the worker use to complete his or her works?
How did the worker act when he or she had a problem?
Not to take any precaution in any problem.
R (Result) : It provides that how reactions the worker showed, how changes he or she had, how affective behaviors he or she had.
Sometimes you can not have a result in every job interview with STAR Technique. If you can, your process when you separate to know the applicant in the job interview, becomes shorter and everything develops quickly.
Feedback – STAR Technique
Feedback is an information transfer process which actualizes between managers and workers, feedback can be made as formal or informal with various reasons. The important one is to have a constructive feedback and to be provided a feedback on time.
Feedback Interviews can be in performance evaluation interviews one to one. Also, it can be almost immediately after a positive or negative situation. To give feedback is as important as to take it.
In feedback interviews, STAR Technique can be used.
Giving Positive Feedback – STAR
S (Situation) & T (Task) : A customer came to the office unhappily.
A (Action) : You gave some forms to him or her and you expressed how he or she had to fill them.
R (Result) : He or she thanked to you for your help and he or she left comfortably from the office.
While STAR Technique is suitable for positive feedback, you should summarize event / situation shortly. You have to emphasize action. Also, you should mention about the positive result with action. So, it is provided to be reinforced this act style.
Giving Negative Feedback – STAR – AR
S (Situation) & T (Task) : A customer complaint your office because of your service.
A (Action) : While he or she is going on his or her speaking, you interrupted him or her and you said that there was not anything to do.
R (Result) : The customer went out by seeming unhappily.
A (Action Which You Should Take) : If you had looked at the conditions with the customer, if you had explained why you couldn't have done the thing which he or she demanded, and if you had directed to the correct office him or her, it would be correct.
R (Result Which You Can Take) : The customer would have information about your provisions and he or she would feel better.
While STAR-AR method is just for  negative feedback, you should summarize event / situation  shortly. You have to emphasize taken action because of wrong. Also, it is necessary to add that the result is negative.