Firstly, we should express what resume is. Resume is a document which is prepared to be taken attention of an employer, Human Resources Specialist or a manager intended for that job and aimed company.
Resume should be prepared specially for each application. It is the most important document which will create the best chance to be accepted for the job. You show your skills and abilities, experiences, academic background, etc. to your future employer in your resume.
Resume is a personal document so you have to prepare it yourself. You should have enough time and energy to write your resume. The important points in a resume are:
Which skills do I have?
Which strengths do I have?
Why should they accept me for that job and position?
How characteristics does the company look for?
What is my ideal position? Can I work alone or as teamwork?
Order of A Resume
What is my aim? How responsibility do I look for?
Summary of my skills and information.
Summary of my experiences.
My educational backgrounds, my studies.
My information about PC.
Foreign languages.
Other information which I want to emphasize.
Types of Resume
There are six types of resume. They are;
Chronological Resume: It is mostly used. The order is in this format:
Personal Information
Career Aim/Profile
Educational Background
Business/Internship Experience
Educations / Conferences
Skills
Activities/Memberships/Points of Interest
References
Functional Resume: In this type of resume, experiences and successes are important. The order is in this format:
Personal Information/Profile
Business Experience (It should be classified under suitable headings.)
Educations / Certificates
Educational Background
Activities/Memberships/Points of Interest
References
Combination Resume: It is both functional and chronological resume. There is an order according to chronological resume but there is a format according to functional resume.
Targeted Resume: Experiences, skills and qualifications are important. If your career aim is specific, you can use this type of resume while you are applying for a specific department of a sector. The order is in this format:
Personal Information/Profile
Perfections
Success
Experience
Educational Background
Skill / Other Information
References
Mini Resume: This type of resume includes just your achievements and skills.
Nontraditional Resume: It is a resume which is prepared as a portfolio or a video.
Resume Example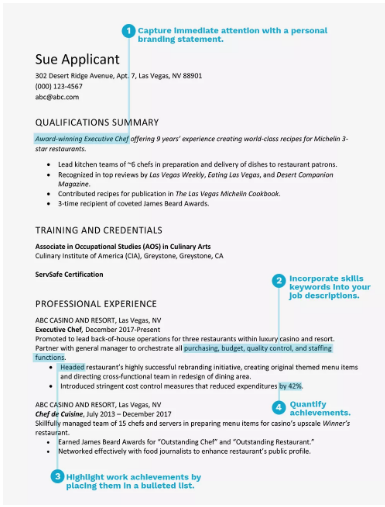 Resumes Listed According to Jobs
Director of Operations
Executive
Recruiting Manager
Administrative Assistant / Office Manager
Finance Resume
Health Insurance / Finance (for a Candidate with a Military Background)
Marketing Analyst
Market Research Analyst
Biomedical Engineer
Front End Web Developer
Help Desk Technician
Information Technology
Social Media Manager
Software Engineer
Web Developer
Admissions Counselor
Athletic Director
Librarian
Social Worker
Special Education Teacher
Teacher
Tutor
Occupational Therapist
Physical Therapist
Speech Pathologist
Construction
Electrician
Engineer
Plumber
Event Planner
Freelancer
Photographer
Professional Writer
Writer / Copy Editor
Writing and Marketing
Culinary / Restaurant
Customer Service
Hair Stylist
Hotel Staff
Retail
Wait Staff
Camp Counselor
College Graduate
High School Resume
Part-Time Job Resume
Summer Sales Associate
A Resume Format (Standard Format)
Personal data
Name
Local address
Permanent address
Phone number
E-mail address
Web page (if appropriate)
Student ID
Level and Plan
Current work objective
Special skills & qualities related to objective
Refer to your skills analysis from Section 1
Languages
Computer skills, etc.
Certificates received
Education
Subjects related to your objective
Samples of best work in classes related to your objective (e.g., team or individual projects)
Other significant facts (e.g., honors, awards, credentials, achievements)
Work experience
Employer
Length of employment
Position
Accomplishments
Samples of best work if relevant
Volunteer work, community involvement, association memberships
Organization
Length of involvement
Role
Accomplishments
Samples of best work if relevant
Publications, presentations & reports
Activities & interests
Extracurricular activities
Positions of responsibility you have held
Athletic accomplishments
Range of general interests
Important Notes:
A resume should take just for one page.
It should be written in PC.
Don't write your characteristics which are not related to the job application which you apply for.
After you write your resume, proofread and edit it again. Maybe you have grammar, spelling or punctuation marks mistakes.
Your sentences should be short and brief. You have to describe yourself so clearly.
If you write a resume which is well prepared, it makes your ready for the job interview. While you are writing information, you can have chance to keep them in your mind. You can be sure yourself in the job interview.
You should keep your resume both short and long. What is it? Keep short your words but don't be shy to write your experiences, qualifications, etc. Write your successes lonely and energetically. Don't forget that your experiences, your references and your academic background can open new opportunities for you.